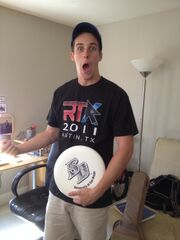 Caleb Thomas Denecour is a former employee of Achievement Hunter. He is 24 and lives in Minnesota.
He left AH to become RoosterTeeth's social media manager.
He left RT in October 2017.
Personal Life
[
]
Caleb is originally from California, and has lived in Italy, Colorado, and Texas. While many believe his family was killed by Ray, they are in fact all still living. His younger brother is Jordan. He is colorblind. He played the clarinet as a young boy, enjoyed playing football, wrestling, and running. He now spends most of his time working and playing ultimate Frisbee. 
Achievement Hunter Career
[
]
Participated in various Let's Plays, especially some early episodes of Let's Play Minecraft
Co-hosts Game Night